1st XI round-up 30 June 2018
Posted by on 30/06/2018 16:19
1st XI round-up 30 June 2018
Another Colton wicket falls as they came unstuck away at Steeton, falling to a nine wicket defeat. Picture courtesy of John Heald Photography (www.johnhealdphotography.co.uk)
Division 1
Burley kept themselves in second place and on the tail of Otley by completing the first win of the day, a canter at home to bottom club Guiseley. Batting first, only a pair of 43s from Joe Fisher and Jack Kelly gave the scorecard any respectability. Jason Wright tore through the order with 6-35 as no other batsman could reach double figures, Guiseley finishing on 145. Burley blasted their target away in just 21 overs, Nicky Bulcock (48*) and Daniel Revis (41*) leading the charge to a maximum 20 point victory.
Whilst Burley were on the charge, Otley were doing likewise away at Horsforth. The hosts chose to bat but, Ollie Hardaker (62) apart, their batting line up struggled to get on top of the league leaders and 176 all out wasn't likely to be sufficient. So it proved, as Otley gunned down their target in a little over 22 overs, Ben Morley smashing 99* and Jamie Pickering weighing in with an unbeaten 68.
Follifoot's form faltered further as they were sunk by an Ilkley side that is improving as the season progresses. Ilkley's total of 240-6 was a good one, anchored by 52 from Nick Cockroft but with contributions throughout the order. Follifoot stumbled their way to 157 all out, Will Lennard taking 4-42 as Ilkley cruised home and they now sit just six points behind their conquered opponents in the middle of the Division 1 table.
Rawdon are third after they comfortably dispatched struggling Bilton. Marcus Berryman (75) and Ryan Gladwin (64) both hit half centuries as Rawdon rattled up 293-9 from their 50 overs. Tuseif Arshad took 5-55 and he top scored from number ten with 43 in the reply, but his batting colleagues rather let him down as Bilton folded for 189. Berryman completed a good personal game with 4-60 for Rawdon.
North Leeds are up to fourth after they piled on the runs against relegation-threatened Beckwithshaw. North Leeds had two centurions in the shape of Andy Carson (103) and Taran Chana (101) as they strode to 305-6 from their 50 overs. Peter Hotchkiss collected four wickets, and it was an eventful spell as his ten overs also went for 90 runs. Sam Moore smacked a defiant 98 for Beckwithshaw in the reply but, although Ross Sedgeley also weighed in with 51, the task was too tall and the innings closed on 229.
Pool now sit just three points above the drop zone as they succumbed to Adel. For the home side this was a big result as it puts a little daylight between them and the bottom two, but the victory was far from assured after the first innings. Pool's James Rosewarne kept a lid on the scoring rate with 5-21 as Adel posted 160. Pool's batting folded meekly, however, for just 121. Griffin Lea (4-23) and David Foster (4-44) did the damage for Adel and they take a vital 17 points from the fixture whilst Pool could only collect five points.
Division 2
Addingham lost back-to-back games to drop down the table to fourth as the victors Tong Park Esholt climb up to the top. Addingham batted first and posted 165 which TPE hunted down for the loss of just four wickets. Ben Brearley struck 61 for Addingham but received little support as James Boyd returned 4-48 for TPE. In the second innings, Chris Oliver struck an unbeaten 42 to guide TPE home to their target with 25 overs to spare, collecting the full 20 points and returning back to pole position.
Collingham's good run of form continued as they blasted the Kirkstall attack for 346 and moved up to second place in the process. Ed Hayhurst (92) and Toby Jacklin (74) were the chief run-getters, but five of the batsmen had strike rates north of 100 as Collingham rattled along at nearly seven an over. Steve Wilkinson (81) and Steve Foster (59) had some fun in the second innings, but they were left with far too much to do and Kirkstall's innings ended on 211. Nishant Desai struck a blow for the bowlers in amongst the carnage with 6-44 from his ten overs.
Steeton have hauled themselves out of the relegation zone after they hammered Colton by nine wickets. Colton's batting line up stumbled it's way through the afternoon and wasted the chance to bat first at what is typically a fast scoring ground on a sunny day. 200 all out and nobody scoring more than 37 tells the tale as Stephen Pearson kept Colton in check with 5-34. Will Forster hit his first Steeton century, 102 not out, and he was well supported by Freddie Pearson (67*) as the hosts cantered home by nine wickets.
Leeds Modernians slip into the bottom two after they lost an entertaining game at Ben Rhydding by 15 runs. The hosts batted first and were well set for a huge total as Ben Steyn, Forrest Hamilton and Sam Housam all hit half-centuries at the top of the order. Manni Hussain put the brakes on for Mods with 4-70 and Ben Rhydding's total of 279 was strong, but perhaps lighter than it should have been. Mods stumbled to 194-9, despite 68 from skipper Dwayne Heke, before Ash Rowden and Stu Borril gave Ben Rhydding a fright. They added an unbeaten 70 for the final wicket, Rowden hitting his maiden 1st XI half century from number 10, as Mods made it up to 264-9. Nick Smith had earlier taken 5-80 for the hosts but ultimately the win for Ben Rhydding gives them some breathing space above the relegation zone.
Hall Park have pulled themselves up to third after easing to victory over bottom club Calverley. Dave Britton hit 40 for Calverley, but 4-43 from Mark McEneaney and 4-22 from Sam Wilkinson ensured that Calverley were skittled for just 116. Skipper Gary Walton led from the front with an unbeaten 45 and Hall Park cruised home to a seven wicket victory.
Saltaire produced another fine rearguard action to rescue themselves from a sticky situation at Olicanian and claim victory by 14 runs. At 77-7, Saltaire were in all sorts of trouble, but 51 from Mussawar Shah and 48 from Aftab Khan ensured they posted a competitive 200. Sajjad Ijaz collected 5-52 for Olis and, having bowled the visitors out in 38 overs, Olis had a mammoth 62 overs to reach their target. They did, in fact, manage to bat for 60 of those overs but with no batsman passing 30, it really was slow going. Nobody played the match winning innings for Olis and they eventually fell just short on 186, Adeel Ashraf in the wickets taking 4-35.
Division 3
New Rover now have a 30 point cushion at the top of Division 3 after they thrashed Alwoodley by 160 runs. Batting first, New Rover rattled up 329, being bowled out in the final over. Stuart Taylor hit a fine ton for New Rover and he was well supported by Matt Dinsdale and Sam Hills, who both struck half centuries. In reply, Alwoodley folded for 169, despite 60 from Amraze Mahmood to hand the hosts an emphatic victory. Taylor capped a fine personal day with 4-46 from his 11 overs of off-spin.
Green Lane have slipped out of the promotion places after they were turned over by in-form Bolton Villas. The Villas' batsmen were again in the runs, and this time it was the turn of Joe Lawrence who fell agonisingly short of his first ton for the club, being out for 99. Chris Spivey kept plugging away for Green Lane with 4-68, but a total of 265-9 was always going to take some chasing. So it proved as Junaid Jamshed (5-57) got to work. Michael Abbott resisted with 57 but when he was sixth out on 144 the writing was on the wall, Green Lane eventually being bowled out for 204.
It was fourth v third as Harden travelled to Bardsey, and it was the visitors who came out on top in this fixture. Daniel Giblin set Harden on their way with 52 and, despite 4-62 from Amjad Ali, they posted a competitive 264-9. Mohammed Altaf responded with 81 for Bardsey but he didn't receive the support he needed and his side were eventually bowled out for 228, meaning that Harden jump up to second.
Bowling performance of the day came from Skipton captain Gary Owens as he routed Old Leodiensians to lead his side to victory. Leos were shot out for just 53 as Owens returned career-best figures of 8-31 in an innings that contained one double figure score. Earlier in the day, Skipton had struggled themselves when they batted, a top order collapse being rescued by Owens who hit 44 out of a total of 150. Harold Campbell had done a fair chunk of the damage with 5-42 for Leos, but this defeat sends his side to the foot of the table.
That Leos finished the day bottom of the table was down to the fact that Shadwell won their second game in three matches to climb up a place. The vanquished on this occasion were Thackley, and it was a comfortable 60 run win for the home side. Shadwell batted first, but it was Mohammed Shoaib that induced a familiar top-order wobble on his way to 6-62. A recovery from 97-6 was launched and 181 all out was a decent turnaround. Waqar Ashraf backed this up with the ball in the second innings, his 4-21 sending Thackley tumbling to 121 all out and they drop down to eighth in the table.
The final game of the day was at St Chads who hosted Menston. Chads batted first and made 258-7 from their 50 overs, Aidan Thatcher smacking 106, an innings which included 21 fours. Menston subsided to just 139 all out in the second innings, despite a defiant 46 from 'Noddy' Hanif towards the end of the innings. With only three wins from the first half of the season, Menston will be looking over their shoulder sitting, as they currently do, in ninth and hoping for an upturn in performances in the second half of the season.
Match photos
Steeton v Colton
Ben Rhydding v Leeds Modernians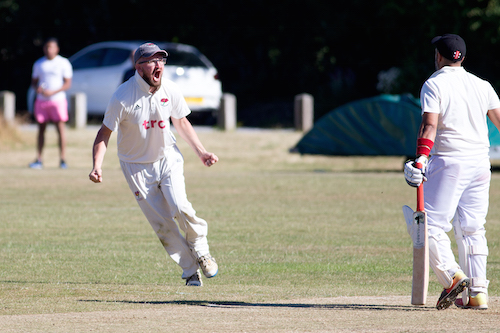 St Chads v Menston